The idea of New York City for a large family vacation can seem overwhelming. Yet, with a little planning, it can be easy to take a bite out of the big apple with your kids.
As a couple, we have traveled to NYC many times over the years and have always loved our time there. When making a decision where to go for a family mini vacation during this past Spring Break, with a little apprehension, we decided to head to New York City.
Pick A Main Area To Stay And Explore
With only two days, Central Park became our focal point for planning. No matter what you do in New York City, incorporating a daily walk through Central Park can help your children release pent-up energy and provide a respite from the more crowded streets. Central Park also provides a real taste of NYC life and you can find multitudes of children running around, musicians holding impromptu concerts and pick-up games of football.
Finding A Hotel
With Central Park in mind, our hotel search began. Certainly, this can be a challenging task for any large family. Our trip was not long enough to warrant an apartment rental, but we found many family rooms available at reasonable prices. Using www.sixsuitcasetravel.com as a starting point was very useful in our search. We ended up staying at the legendary The New Yorker.
With a gorgeous lobby and excellent customer service, we were happy also to find The New Yorker is home to the Tik Tock Diner, the largest diner in NYC. With fast and friendly service and huge menus, the diner is open 24/7. Perfect for early risers or families who need sustenance during their days.
Our room, albeit in need of some major updates, had a functional layout and could have easily fit 6-7 people. One bedroom had 2 large double beds, a large walk-in closet in the hallway and separate living area with a double pull-out couch.
The hotel was a little further from the park than we had wanted but still within walking distance with three children. Times Square was around the corner from the hotel and is a must-see for the entire family. Just avoid the characters wanting pictures. They will also want your cash.
We made a point to visit Central Park at least once a day. You can enter from any location and find something to behold. The kids enjoyed walking down Poet's Alley, a wide beautiful walkway full of trees and statues.
We also showed them the Bethesda Fountain, one of the most famous NYC sights.
They also climbed the numerous rocky hills where they could view the entire park.
On our first day exploring the park, we wandered down to the Conservatory Water at East 74th Street where the famous Hans Christian Andersen and Alice in Wonderland statues stand.
We spent some time getting our bearings as the kids clamored over the statues. After a bit of time here, it was a brief stroll down any path to find food stands or trucks where we grabbed a hot pretzel and drink.
Museums Everywhere – Where Should I Go?
For large families and especially those with younger children the idea of a museum may not seem like a good idea. Yet, not far from Central Park is the American Museum of Natural History, a great family-friendly museum.
Buying tickets in advance can help you bypass any lines. The museum is easily accessible from Central Park or from the subway. You can spend an inordinate amount of time getting lost in the different galleys and paths.
We chose to limit our time and focus on a few areas of high interest for our family, one of the Special Exhibitions, the Dinosaurs, and the Mammals. In truth, the kids had their fill of the museum after a few hours, but it was a great experience.
Not far from the museum we stumbled on a quieter but restaurant-filled street called Amsterdam Avenue. Starving and parched we fell into The Meatball Shop. It was a unique restaurant with a kid-friendly menu, dry-erase boards for them to draw on and delicious menu of meatballs and fixings and we ate our fill. The best part of a trip to NYC is finding gems like this so keeping your days free to explore is always a good idea.
Keep It Simple
When large families travel to any busy city like NYC, simplicity is the mantra of the trip. We gave the kids one activity choice and then planned a day around that. They chose the Empire State Building.
For first-time visitors to NYC, this iconic building is a must-see attraction and easy to plan with large families. I would recommend buying the VIP Express Pass when traveling with kids available directly from the Empire State Building. It provides you with priority and easy access past the lines and security.
The Empire State Building was a great way to give the children a real sense of the enormity of NYC. Take a toque during cooler weather as the 360-degree view from the 86th Floor outdoor promenade as it can get windy, but the view was worth it.
Visit Like A Local
The best way to see New York City is to visit like a local. Eat off the food trucks, hit Central Park at least once a day and wander the quieter streets off the beaten path.
Our last morning we took a quick walk through Rockefeller Centre
with a stop at the nearby Nintendo NYC,
Afterwards, we grabbed an Uber for one last stroll in Central Park.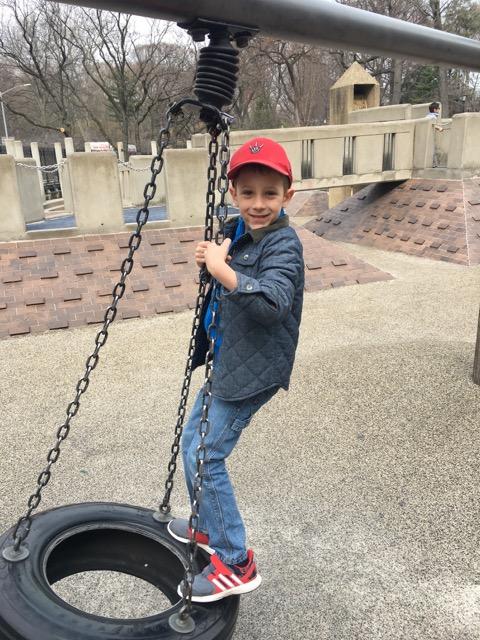 We walked around the paths, played at a couple of playgrounds and visited Strawberry Fields. It was a nice end to our first family visit to the city of lights.
Busy, full of life and tons for families to explore, New York City can be a great mini trip for your next large family vacation.
Save