Renting a houseboat is like staying in a deluxe hotel suite…floating on the water! Each houseboat comes equipped with a full kitchen, bathroom, living room, and various sleeping areas. Bring your own food to prepare in the kitchen, and the meat of your choice to grill on the BBQ. Climb the stairs to the upper deck, where you can glide down the swim slide into the water. The upper deck also offers open space to soak up some rays or simply hang out in the presence of good friends and family.
Pull the houseboat up onto the beach and explore the scenery at the lake of your choice. Build a sandcastle or fish right from the shore! Don't worry about filling up the houseboat with fuel at the beginning of your voyage, as it comes completely full. Like a rental car, you will simply top it off at the end of your trip. Don't have experience driving a boat? No need to fear, as the marina staff will instruct you on how to properly navigate the houseboat. Pack your bags, designate your 'Houseboat Captain,' and embark on the journey of a lifetime!
Easily make plans for a memorable big family vacation with these simple steps:
1. Initial Research – choosing the right houseboat
We want to make sure you get the houseboat that fits you and your friends and family to a T. When you call, tell us about who you're planning to bring with you. How many adults and children, and how many bedrooms or bathrooms you need to make everyone comfortable.
Browse all of your houseboat options via the Houseboats page at the destination of your choice. Our houseboats are big family friendly sleeping anywhere from 6 to 30 depending on the lake and houseboat. Click on each houseboat name to view photos, floorplans, amenities, and even pricing. Let us know if you have some dates in mind, we'd be happy to give you availability and pricing options.
Not sure which location you want to visit? See our Destinations Page for a map and a full listing of all locations we offer nationwide.
2. Make your Reservation
It is always a good idea to reserve your vacation as soon as you know what your plans are. If you're planning a vacation over a holiday or lake event (Memorial Day, 4th of July, Spring Break, etc.) it is suggested to make a reservation 6-9 months in advance, especially if you have specific days to travel. However, some vacations can be planned a mere 2 weeks prior to your departure.
Early bird gets the worm: those who reserve vacations early get the best Special Offers and Discounts (if available) as well as their pick of availability on houseboats and dates of travel. Don't wait!
Payments will vary based on which location you plan to visit. There is typically a deposit amount due upon making a reservation. Some deposits are applied toward your total like a down payment, and others are on top of the rental fee and then refundable at the conclusion of your trip.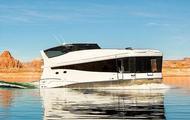 3. Add Watercraft and Water Toy Rentals
Water toys can certainly enhance the houseboating experience, and they're not just for the kids. Pull the kids, your best friend, or even grandma, on a tube, water ski, or wakeboard behind a ski boat and take them on the wildest ride of their life. Hold on as long as you can! Or, if you prefer a more leisurely pace, slow it down and explore hidden areas by the smooth water in a kayak or on a paddleboard. We recommend reserving 2-3 months in advance.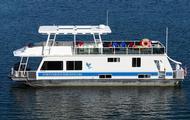 4. Make Final Payments and Review Extra Costs
Final payment can be due upon your arrival, or may be due up to 120 days in advance! Usually, we can handle payment however if you need (automatic payment, split on different cards, payments in increments, etc.) make arrangements with your friendly Houseboating Agent upon booking.
For the most part, your houseboat rental cost will cover everything except for fuel and food. But depending on which destination you plan on visiting, there may be some extra costs that are required with your rental.
For example, some Lakes require you to bring or rent an additional motorized boat to tag alongside your houseboat rental for safety reasons. (Typically the cost for these required rentals is very reasonable.)
Other costs that may not be included in your rental cost: propane, park entrance fees, environmental fees, etc. Ask your agent what other fees you can expect (if any) to apply at the location you plan on visiting.
For fuel, if you budget between $100-150 per day for fuel, you should be safe. Of course, it will depend on how much driving you do each day, and how long you run the generator.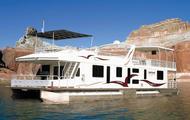 5. Review Houseboat Inventory and "What to Bring" List
Most of our rentals include bed linens and bath towels. However, some locations rent them out for a small fee when you arrive, and some do not offer them at all. Ask your agent if these options are available for your houseboat.
Generally, bring bottled water for drinking, extra towels for swimming, spices for cooking (down to salt and pepper,) and some people like to bring disposable plates and utensils to save on time doing the dishes.
A suggested "items to bring" list will appear with your confirmation documents. Make sure to look it over and let your agent know if any questions or concerns arise.
6. Plan Your Meals
Start planning your meals and make a shopping list to save you time and grief when you are stocking up before going out on the water. You may even consider divvying the shopping and/or cooking responsibilities between you and your group.
That's it! Houseboating can be a very different experience from lake to lake. But whether you're gliding through the sinuous sandstone canyons of Lake Powell, marveling at the diversity of Lake Mohave, or basking in the warm desert sun on Lake Mead, you'll always find that the common theme of all houseboat vacations is fun.
You might also like: