Now, I know what you're thinking:
"New Orleans and kids shouldn't even be in the same sentence"
But believe me, there is plenty to do in the Big Easy that is totally and completely family-friendly. By choosing the right locations, big family friendly hotel, and activities, New Orleans can be a city that your kids will never forget.
New Orleans – Day One Activities
Day One is all about the fun side of New Orleans. It is called the Big Easy for a reason, take some time to get to know the fun-loving culture that NOLA has to offer.
Mardi Gras World
Start your trip off with a bang at Mardi Gras World, a place where you can experience Mardi Gras all year round! Mardi Gras World showcases decades of parades, costumes, and more memorabilia.
Self-guided tours are offered, but we recommend taking the official tour to really get the story of how much work and planning it takes to put on Mardi Gras every year. Mardi Gras World also offers a free shuttle for those taking a tour, with stops around Canal Street. A huge bonus!
Mardi Gras World tours take approximately 1 hour. Mardi Gras World is open 7 days a week, from 9 AM to 5:30 PM.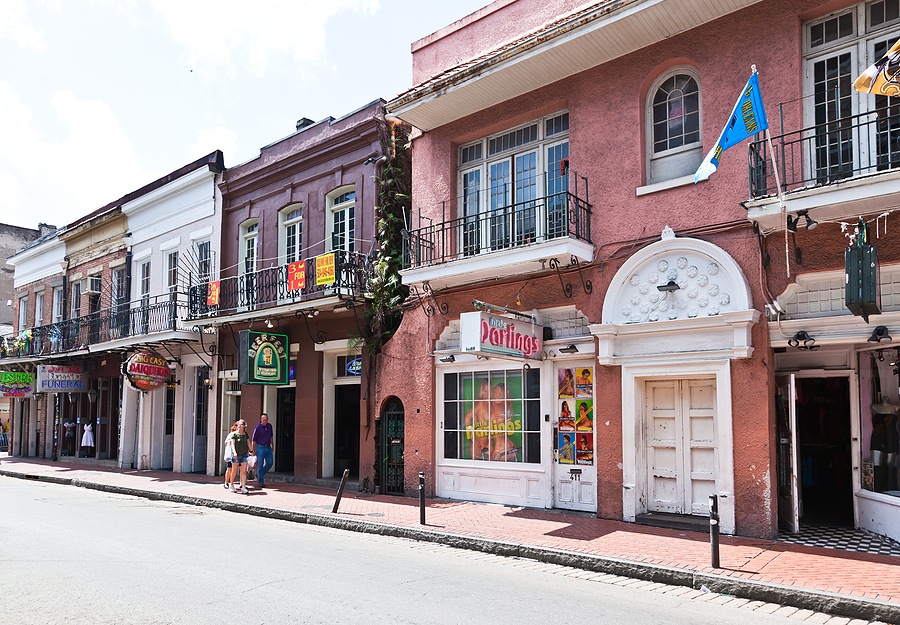 French Quarter
It's not a true New Orleans trip without a visit to the French Quarter. There are tons of family-friendly shops and cafes to explore during the day. Check out Maskarade, a shop that sells Carnival masks, and the French Market, which has plenty of fun knick-knacks and toys for kids to look at.
Try also buying tickets for a historic carriage ride through the Quarter! This is an easy way to see a lot of the area but without all the walking.
Exploring the French Quarter can take anywhere from 1 to 3 hours, depending on your stops. Carriage rides operate Thursday-Tuesday, all day.
Audubon Aquarium of the Americas
The Audubon Aquarium is consistently rated among the top five aquariums in the US, and for good reason! With more than 3,600 animals from more than 250 species, including endangered species, such as African penguins, and rare animals, such as white alligators, the Aquarium offers you an experience you'll never forget.
The Audubon Aquarium can take up to 2 hours to complete. Audubon Aquarium is open Thursday-Monday, 10 AM to 5 PM
New Orleans – Day Two Activities
Day Two is our fun-filled, N'awlins history day! Explore and learn about this great city's history, while still keeping kids entertained.
WWII Museum
The New Orleans WWII Museum is an informative and fun stop for all ages and a great option in the case of bad weather. Dive into the battles, artifacts, and personal stories from those involved in the war. Housed in four different buildings, this stop can take up as much or little of your day as you'd like. Their website even offers their own itineraries for the museums, so we recommend giving those a look!
The WWII Museum can take from half a day up to a full day to explore. The WWII Museum is open 7 days a week, 9 AM to 5 PM.
The Presbytère
The Presbytère is a Louisiana State Museum located in Jackson Square where it was originally constructed as a part of the St. Louis cathedral. Later converted into a courthouse, and then into the Museum we love today, the Presbytère educates patrons on the history of the city.
Current exhibits include a history of Mardi Gras and the events of Hurricane Katrina. An informative and educational visit, this won't be a stop your family will soon forget!
Exploring this museum can take between one and two hours. The Presbytère is open Tuesday – Sunday, 9 AM to 4 PM.
New Orleans Jazz Museum
The New Orleans Jazz Museum "celebrates the history of jazz, in all its forms, through dynamic interactive exhibits, multigenerational educational programming, research facilities, and engaging musical performances." (from the museum's website)
Jazz is a quintessential part of the history and culture of New Orleans. Learn about how jazz music has shaped the city and its people with five rotating exhibits to explore. The museum has 25k+ artifacts, interactive displays, and live performances on Tuesdays.
A visit to the Jazz Museum can take up to two hours. The Jazz Museum is open Tuesday-Sunday, from 9 AM to 4 PM.
Joan of Arc Statue
Just a quick five-minute walk down Decatur St. will take you to this next quick stop, the Joan of Arc Statue.
"In 1425, at the young age of thirteen, voices spoke to a French teenager named Joan telling her to provide aid to Charles VII of France in his plight against the English during the Hundred Years' War. Mounted on her stead, this teenage girl led the French forces to drive the English troops out of Orleans."
'The Maid of New Orleans', Joan of Arc is a celebrated figure throughout the city, particularly during Mardi Gras. A great photo for your New Orleans trip, and quick city history for visitors.
"Rearing back on her stead, Joan represents the strength, power, and perseverance of New Orleans, a city that no foe may defeat."
New Orleans – Day Three Activities
Airboat Ride and Crocodile Farm
Venture into the Louisiana swamps for an unforgettable airboat ride and crocodile tour. Enjoy the Louisiana sun, meet the wildlife of the swamps, and learn about the ecosystem of the bayou. Pack a lunch, some sunscreen, and your camera because you will not want to forget this!
There are many different airboat and swamp tour companies that run around the New Orleans area. Most are about 45 minutes to an hour outside of the city and provide shuttles to their locations from around the French Quarter and New Orleans hotels. Airboat tours take around 2 hours, so we recommend carving out about 5 hours in your day for this experience.
Ride the Steamboat Natchez
The Steamboat Natchez has been taking visitors along the Mississippi River since 1817. Enjoy views of the city, award-winning jazz, and an optional authentic creole buffet. Cruises are offered throughout the day, with options for dinner and lunch. A classic end to a fantastic family vacation.
Bonus New Orleans Activity Suggestions
Want to extend your visit our swap out some activities? New Orleans has plenty for your family to do.
Louisiana Children's Museum – Explore over 8.5 acres of in-and-outdoor activities.
Audubon Insectorium – Temporarily closed as they move to Audubon Aqaurium of the Americas
New Orleans Botanical Garden – Open year round with 10 acres of garden to enjoy.
Audubon Zoo – Ranked as one of the top things to do in New Orleans and voted one of the tope 10 zoos in the country.
Alternative and Nighttime Activities with Tweens and Teens
I've dedicated this part of the list to those with older kids/teens or those who may particularly enjoy the odder side of New Orleans. Feel free to swap these out with any activities in the itinerary or add them for nighttime adventures.
Ghost Tour
New Orleans is known for its ghost and vampire tours of the city, even being called one of the most haunted cities in the world. Numerous touring companies offer family-friendly tours which will still give you a comprehensive history of the city, while not scaring the bejeezus out of kids.
Different themes are available for all tours, including haunted mansions, Jackson Square, tours of the famous St. Louis cemetery. Whether you're a believer or not, these tours are fun for all ages.
Pharmacy Museum
An interesting little detour into the history of pharmacy and healthcare in Louisiana, the Pharmacy Museum is an educational and entertaining pit stop for all. Explore the extensive collection and learn from experts about how medicines have become what they have today. This is also a great option for bad weather.
Planning for a longer stay or have a large family? Check out these New Orleans vacation rentals.