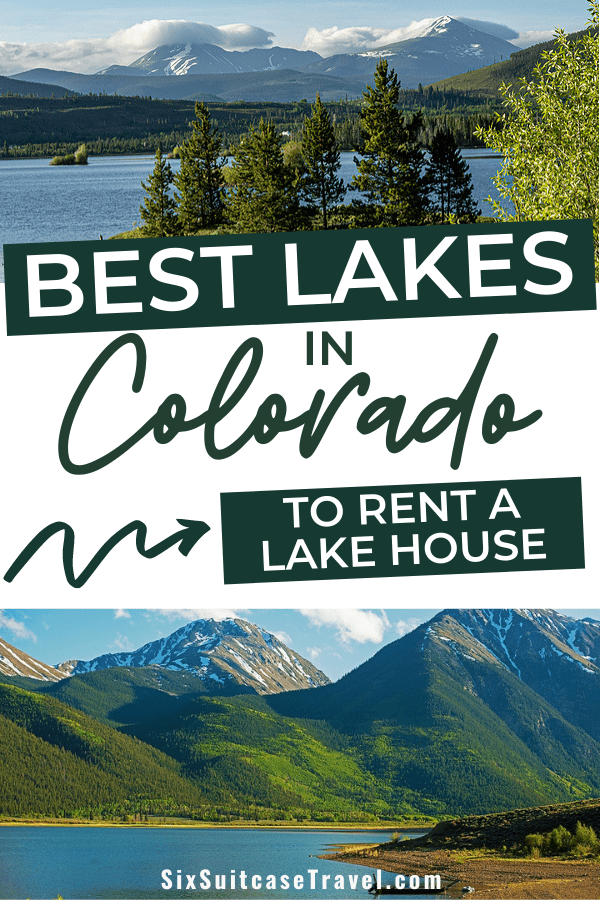 With its breathtaking alpine views and endless water activities, Colorado's lakes have everything you need for a legendary family vacation. Swimming, jet skiing, fishing, boating, and wakeboarding are just some of the thrills the Centennial State's lakes have to offer. But if peace and quiet is your cup of tea, Colorado's mountain lakes offer a peaceful place to chill among family with the spectacular Rocky Mountains serving as the backdrop.
There are many gorgeous lakes for you to enjoy in Colorado. The following lakes were chosen by the number of activities they offer and the availability of vacation rentals for big families.
Shadow Mountain Lake
Located in Grand County, Shadow Mountain Lake is a high-altitude reservoir rich in scenic views and entertainment opportunities. Its 8 miles of shoreline provide plenty of space to practice power boating, sailing, kayaking, wakeboarding, and jet skiing. Visitors can either launch their boats from the lake's two ramps or rent any type of watercraft at the Trail Ridge Marina – if they didn't bring their own.
Once afloat, visitors can drop a fishing line into the lake's calm waters to reel in salmon, rainbow trout, and brown trout. However, if you have an itch for exploring, head towards the Colorado River or one of the many creeks flowing out of Shadow Mountain for some quiet fly-fishing. Double your fun – visit Lake Granby too!
Lake Estes
Estes Park County's Lake Estes is a popular summer resort located in the heart of the Rocky Mountains. Surrounded by both the Rocky Mountain National Park and Roosevelt National Forest, Lake Estes's 4-mile-long shoreline is living proof that good things come in small packages.
Kayaks, stand-up paddleboards, pontoon boats, and other watercraft are available for rent at the Lake Estes Marina – boat launches are located next to the marina. However, if your family is up for a fishing adventure, Lake Estes's abundant supply of brown trout, yellow perch, tiger muskie, and walleye means no one will go home empty-handed.
Lake Pagosa
Quaint and secluded, Lake Pagosa offers beautiful mountain scenery just 10 minutes outside Pagosa Springs. Unlike other Colorado lakes, Lake Pagosa is seldom crowded with visitors – though, once you dive in it's a different story. Anglers can find a wide variety of species in Lake Pagosa's waters such as green sunfish, black crappie, yellow perch, triploid grass carp, as well as various types of trouts. Jetskiing, canoeing, and motorized boating can all be practiced either in the lake or in the many streams and rivers nearby.
Twin Lakes
At 9,181 feet, the Twin Lakes are two of the highest in the state. Located just under the massive Mount Elbert, the Twin Lakes' alpine views -a relic of the last ice age – have made it a magnet for vacationers and high-altitude anglers.
Its pristine waters shelter large stocks of longnose sucker, trout brown, rainbow, and cutthroat trout year-round – plus, the lakes are also an ice fishing paradise. But for those that don't like sitting in one place too much, the twin lakes have both boat launches as well as watercraft rentals stocked with boats, kayaks, sailboats, and everything your family needs to explore and fish in these beautiful waters.
Dillon Reservoir
Located close to several ski resorts with year-round activities, Dillon Reservoir's alpine landscape attracts thousands of visitors each year. During the winter, visitors can delight themselves in ice fishing or snowmobiling through the frozen countryside. Once the warmer months set in, families can partake in Dillon Reservoir's active boating and sailing scene – which includes exciting racing regattas – as well as affordable boat rentals.
But if the adrenalin and competition aren't your things, don't worry. The lake's large stocks of rainbow trout and kokanee salmon provide everything you need for a succulent family barbeque after an afternoon of fishing.
A family vacation's success is often determined by the destination's beauty and uniqueness. And when it comes to scenic sights and chill environment few places compare with Colorado's marvelous alpine lakes. So, whether your family is up for a wild day of wakeboarding or a quiet evening of sharing stories around a barbecue, Colorado's lakes promise plenty of opportunities to unwind and strengthen your family bonds.
You might also like: