Utah is largely a state of open spaces, welcoming to recreation of all types. With thousands of miles of trails for hiking or biking, thousands of miles of rivers for fishing, paddling or rafting; Utah has fantastic state parks for your family to explore the great outdoors. Even in winter, cross-country skiers, snowmobilers, ice fishers, and hardy campers are taking advantage of Utah's 43 state parks. We found 8 state parks with cabins for big families. Enjoy!
Tucked away in the mountains of northeastern Utah, East Canyon Reservoir is a popular destination for boating, fishing, and camping, but also holds a bit of history. Explore the nearby Mormon Pioneer Trail, the route taken by Mormons traveling more than 1,300 miles from Illinois to Utah.
Green River State Park is the put-in point for the 120-mile float through Labyrinth and Stillwater Canyons. This section of the river is rated for beginners and intermediate boaters. This trip takes you through beautiful desert and Canyon scenery and is enjoyable to all.
Hyrum State Park is a terrific year-round fishing destination for bass, trout, perch, and bluegill. In the summer the park is an excellent place to participate in a variety of water sports. The park makes a great base camp for hikers, bikers, rock climbers, and auto tours.

Search Big Family Friendly Hotels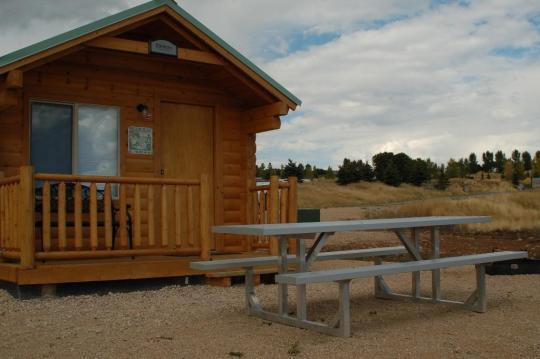 Fish, wakeboard, waterski, canoe or motorboat along the beautiful waters of Jordanelle Reservoir. Accommodations at Hailstone include an 8-lane boat ramp, personal watercraft ramp, dry storage, wet slips, full-service marina store, and pro shop, picnic areas (cabanas), modern restrooms and showers, RV and tent campgrounds, reception center, group day-use pavilions, and one group overnight pavilion.
Summer recreation includes camping, fishing, swimming, electric motor and non-motorized boating, golfing, and hiking. Off-highway vehicle trails are accessible from the park.
The scenic beauty of 3,500 acres of parkland, many coves, remote beaches, and unusually blue water makes this a favorite of boating enthusiasts statewide.
Steinaker's convenient location makes it a popular base for exploring the many attractions of Dinorsaurland in northeast Utah or the Flaming Gorge National Recreation Area to the north.
The park provides year-round recreation, including camping, picnicking, hiking, mountain biking, golf, off-highway vehicle and horseback riding. The park offers two historic areas, Historic Tate Barn and Huber Grove.
Looking for a big family friendly hotel in Utah?
Popular Utah Destinations
Near Utah National Parks