Blue Ridge Parkway's scenic drive offers stunning views of the Appalachian Mountains and is an excellent way to explore the natural beauty of the region. In this kid-friendly guide, we'll break down the parkway into four distinct regions, starting from mile marker 0 outside Shenandoah National Park and ending at mile marker 469 in Cherokee at Great Smoky Mountains National Park.
Each region, including the Ridge, Plateau, Highlands, and Pisgah Regions, offers its own unique attractions and natural wonders. Along the way, we'll cover what to see, where to stop, where to hike, and suggest side trips that are perfect for families with kids. So buckle up, pack some snacks, and get ready for an unforgettable adventure on the Blue Ridge Parkway.
We have not provided a specific itinerary for the Blue Ridge Parkway, as the duration of your trip will depend on your preferred stops and pace of travel. Driving the entire length of the parkway without stopping would take approximately 12-14 hours. However, we recommend taking a more leisurely approach and allowing for at least 3 days or up to a week to fully appreciate the stunning views, hiking trails, and attractions along the way.
You don't have to complete the whole parkway in one trip. If you're traveling in the area, add one or two segments to your itinerary. We visited the Parkway as part of an Appalachian Adventure Road Trip Loop (itinerary article coming soon!) which included the Great Smoky Mountains, Shenandoah Parkway, and New River Gorge National Park and Preserve. Click to read all our national park guides.
Ridge Region – Rockfish Gap to Roanoke
Mileposts 0 to 106
The Ridge Region is the northernmost section of the Blue Ridge Parkway and spans from mile marker 0 to mile marker 105. This region is known for its stunning views of the Shenandoah Valley and the Blue Ridge Mountains, as well as its charming small towns and historic sites. One of the highlights of this region is the Humpback Rocks Visitor Center, which offers exhibits on the region's cultural and natural history of the Appalachian Mountains. Another must-see is the Peaks of Otter area with picnic tables and hiking trails.
Ridge Region Highlights and Overlooks
Milepost 5.8, Humpback Rocks Visitor Center: Features a recreated Appalachian farm and interprets the mountain way of life during the 19th century, providing educational programs and trail access to Humpback Rocks
Milepost 63.6, James River Visitor Center: Offers panoramic views of the James River, exhibits on natural and cultural history, and serves as a gateway to the James River and Otter Creek recreation areas.
Milepost 66.8, Swift Run Overlook: Provides scenic views of the surrounding mountains and valleys, including the Swift Run Gap entrance to Shenandoah National Park.
Milepost 76.5, Highest Point in Virginia: Located at an elevation of 3,865 feet, offers sweeping vistas of the Virginia countryside and is a favorite spot for watching sunsets and stargazing.
Milepost 78, Apple Orchard Falls: Stunning 200-foot waterfall located in the Jefferson National Forest, accessible via a moderate hike from the Blue Ridge Parkway.
Milepost 86, Peaks of Otter: Hike to the summit of Sharp Top or take a leisurely stroll around Abbott Lake at this popular recreation area.
Ridge Region Easy and Moderate Short Hikes:
Milepost 5.9, Farm Museum Trail: 0.5 miles round trip, a pleasant stroll through historic farm buildings and interpretive exhibits, providing insights into the region's agricultural history and rural life.
Milepost 34.4, Yankee Horse: 0.4 miles round trip, view a reconstructed short section of railroad tracks replicating what was used to get logs out of the mountains by logging companies. Turn right at the tracks and follow the trail about 500 feet to view Wigwam Falls.
Milepost 63.1, Otter Lake Loop: 0.8 miles, a short, family-friendly hike around a man-made lake formed by damming Otter Creek. During full foliage season, the overlook view of the lake may be obstructed by trees.
Milepost 63.6, Trail of Trees Loop: 0.9 miles, Starting at the James River Visitor Center, this short loop spans the river. For an additional 0.4-mile loop, add on the James River Canal Trail which includes a pedestrian bridge across the river and informational panels about the Battery Creek Lock. Very interesting to learn about canal boats and locks.
Milepost 83.4, Fallingwater Cascades National Scenic Trail: 1.5 M RT loop to Fallingwater Creek for views of the upper and lower level of the cascades. While short, the trail is steep and rocky in areas and includes a crossing of the creek using stepping stones.
Milepost 85.7, Abbott Lake Loop: 1.0 miles, pleasant trail circling Abbott Lake, providing views of the lake, surrounding mountains, and the historic cabin from the 1800s, Polly Wood's Ordinary (inn).
Milepost 85.9, Elk Run Loop: 0.8 miles, a moderate nature trail loop.
Ridge Region Gas, Restaurants, Access Points, and Stores
Gas availability off the parkway near mileposts 0, 27.2, 45.6, 63.7
In-Park Stores and Restaurants

85.6 Peaks of Otter Lodge and Restaurant
85.6 Peaks of Otter Country Store

Access Points to Blue Ridge Parkway

MP 0 – Rockfish Gap Access Point – Blue Ridge Parkway and US 250
MP 27.2 – Tye River Gap Access Pont – Blue Ridge Parkway and Route 56
MP 45.6 – US 60, near Amherst, Buena Vista, and Lexington
MP 61.4 – Route 130, 20 miles to Lynchburg, 15 miles to Natural Bridge
MP 63.9 – US 501, access to Lynchburg and Natural Bridge
MP 85.9 – VA 43, 10 miles to Bedford and Smith Mountain Lake
MP 91 – Bearwall Gap Access Point at VA 43, 4 miles to Buchanan
MP 105.8 – US 460, 9 miles to Roanoke
Kid-Friendly Activities/Side Trips from Ridge Region
Plateau Region – Roanoke to VA/NC Border
Mileposts 106 to 217
The Plateau Region of the Blue Ridge Parkway spans from milepost 106 in Roanoke to the Virginia/North Carolina border at milepost 217. This section of the Parkway offers a unique rural experience, with rolling hills and farmland dotted with small towns and communities. Visitors can enjoy scenic views of the surrounding mountains and valleys. Along the way, there are several overlooks and picnic areas to stop and take in the stunning vistas. The Plateau Region is also home to the iconic Mabry Mill, one of the most photographed sites along the Parkway, where visitors can witness traditional milling techniques and explore the historic exhibits.
Plateau Region Highlights and Overlooks
Milepost 129.6 Roanoke Valley Parkway Overlook: Take in the breathtaking panoramic views of the Roanoke Valley, showcasing the cityscape, surrounding mountains, and the picturesque Roanoke River.
Milepost 144, Devils Backbone: Known for its dramatic rock formations, providing visitors with awe-inspiring views of the surrounding mountains and valleys.
Milepost 169, Rocky Knob Visitor Center: Make a pit stop to use the facilities, ask questions at the information desk, and take a hike.
Milepost 176.2, Mabry Mill: One of the most popular stops, explore the historic gristmill and blacksmith shop and learn about traditional Appalachian crafts.
Milepost 188.8, Groundhog Mountain Overlook: Enjoy panoramic views of the surrounding mountains, valleys, and forests.
Milepost 213, Blue Ridge Music Center: Enjoy traditional music – bluegrass, old-time, folk, Americana, country blues, and gospel – at the outdoor amphitheater, indoor theater, and interpretive center. Check their calendar for daily music and concert series. Explore two hiking trails – High Meadow Trail and Fisher Peak Loop.
Milepost 216.9, NC – VA state line: Marks the boundary between North Carolina and Virginia.
Milepost 217, Cumberland Knob: One of the first developed recreation areas on the Blue Ridge Parkway, and features a picnic area, hiking trails, and beautiful mountain views.
Plateau Region Easy and Moderate Short Hikes:
Milepost 114.9, Roanoke River Loop: 0.35 miles, a self-guided trail offering a leisurely 0.35-mile walk along the picturesque Roanoke River.
Milepost 120.4, Roanoke Mountain Summit: 0.22 miles round trip, leading to a rewarding summit viewpoint. As you ascend, you'll be treated to panoramic vistas of the Roanoke Valley, making it a popular spot for pics.
Milepost 176.2 Mabry Mill: 1-mile round trip, enjoy a short walk to explore the old mill, Matthew's Cabin, and cultural demonstrations.
Plateau Region Gas, Restaurants, Access Points, and Stores
Gas availability off the parkway near mileposts 90.9, 106, 112.2, 121.4, 135.9, 165.3, 177.7, 199.4, 215.8
In-Park Stores and Restaurants – 176.2 Marby Mill Restaurant & Gift Shop
Access Points

MP 105.8 – US 460, 9 miles to Roanoke, Virginia
MP 112.2 – VA 24, 5 miles to Roanoke
MP 121.4 – US 220, 5 miles to Roanoke, 21 miles to Rocky Mount
MP 165.3 – Tuggle Gap Access point: VA Route 8, 21 miles to Fairy Stone State Park
MP 177.7 – US 58, 22 miles to Hillsville
MP 199.4 – Fancy Gap Access Point – US 52, 8 miles to Hillsville
MP 215.8 – VA 89, 7 miles to Galax
MP 217.3 – NC 18
Kid-Friendly Activities/Side Trips from Plateau Region
Visit Roanoke, VA: Spend an afternoon visiting the Virginia Museum of Transportation, Roanoke Pinball Museum, Harrison Museum of African American Culture, or the Science Museum of Western Virginia.
Explore Fairy Stone State Park: Enjoy the 168-acre lake and Philpott Reservoir. A campground and cabins are available. Learn about the legend of fairy stones and hunt for your own.
Highlands Region – VA/NC Border to Crabtree Falls
Mileposts 217 – 339
The Highlands Region of Blue Ridge Parkway, stretching from milepost 217 to 340, is located between the Virginia/North Carolina border and Crabtree Falls. This region offers visitors a chance to explore charming small towns and quaint villages, such as Sparta and Little Switzerland. Along the way, you can stop at the Linville Falls Visitor Center and hike to see the stunning Linville Falls, one of the most photographed waterfalls in the Southeast. You can also visit the Moses H. Cone Memorial Park and the Linn Cove Viaduct, a beautiful bridge that hugs the contours of Grandfather Mountain.
Highlands Region Highlights and Overlooks
Milepost 218.6, Cumberland Knob: Enjoy lunch at the parkway's first recreation area. The area has 1,000 acres, drinking water, and a picnic area. Walk the 15-minute loop trail to Cumberland Knob.
Milepost 238.5, Doughton Park and Brinegar Cabin: Explore the 5000-acre area with over 30 miles of hiking trails. Visit the Brinegar Cabin build about 1880. Amenities include a campground, restaurant, picnic area, and restrooms. Take in the view from Wildcat Rocks Overlook and visit the Caudill House.
Milepost 294, Moses H Cone Memorial Park: Constructed in 1901, the 20-room mansion has twenty-five miles of carriage trails on the 3,500-acre estate. Textile entrepreneur Moses Cone and his wife planted 10,000 apple trees. Cone also planted white pine forests and hemlock hedges, and stocked several lakes with bass and trout. Walk the trails or enjoy a tour of the house.
Milepost 297, Julian Price Memorial Park: Plan an afternoon at the 4,300-acre park once owned by an insurance executive in the late 1930s and 1940s. Available activities include fishing, canoeing, guided walks, and evening campfire programs. Canoes are available for rent. Hike one of seven trails ranging from 2.7 to 13.5 miles. The park offers campsites and 100 picnic sites.
Milepost 304.4, Linn Cove Viaduct and Visitor Center: The S-curved bridge winds around Grandfather Mountain. Built over land, the viaduct was completed in 1983 and cost almost $10 million. The 1,243-foot-long viaduct was built in 153 segments a few miles from the site to prevent damage to Grandfather Mountain. Once built, the viaduct marked the completion of the Parkway and the need for a narrow 14-mile detour around Grandfather Mountain.
Milepost 316, Linville Falls: This stunning 60-foot waterfall is one of the most popular attractions on the parkway. Families can hike to several different viewpoints of the falls. Stop at the small visitor center or take a hike.
Milepost 320.7, Chestoa View: Walk 0.25 miles from the parking lot to the rock-walled overlook. You'll see Grandfather Mountain, Table Rock, and Linville Gorge.
Milepost 330.9, Overmountain Victory National Historic Trail and North Carolina Museum of Minerals: Interactive, hands-on exhibits exploring mining and the creation of the Blue Ridge Mountains.
Milepost 334, Little Switzerland: Charming village nestled in the mountains. Explore unique shops, eat at the General Store, or indulge your sweet tooth at The Swiss Shoppe.
Milepost 339, Crabtree Falls: Another popular waterfall in the Plateau Region is Crabtree Falls. Families can take a short hike to the base of the falls, or for a more challenging hike, continue on to the upper falls.
Highlands Region Easy and Moderate Short Hikes:
Milepost 217.5, Cumberland Knob: 1-mile round trip to a shelter and back.
Milepost 230.1, Little Glade Millpond Loop, 0.4-mile easy walk along the shoreline of the pond.
Milepost 241.0, Wildcat Rock: Short walk to two viewing platforms of the Basin Cove Valley.
Milepost 271.9, Cascades Loop: 0.5 miles nature trail with tree and plant identification signs, multiple stairs, and a viewing platform of the falls.
Milepost 294.1, Figure 8 Trail: 0.7-mile loop located next to the Cone Manor House.
Milepost 304.4, Linn Cove Viaduct Access: 0.16-mile paved trail from the left side of the Linn Cove Visitor Center to an observation area underneath the Viaduct.
Milepost 305.2, Beacon Heights: 0.4 miles round trip, steep and rocky hike to the peak. Enjoy views of Table Rock, Hawksbill, Grandmother Mountain, and Grandfather Mountain. The two open areas are popular places to view sunrises and sunsets since one faces east and the other west.
Milepost 316.4, Linville Falls – Erwins View: 1.6 miles round trip hike starting from the Linville Falls Visitor Center leading to views at the base of Upper Linville Falls.
Highlands Region Gas, Restaurants, Access Points, and Stores
Gas availability off the parkway near mileposts 229.7, 248.1, 261.2, 291.8, 312, 330.9
In-Park Stores and Restaurants

241.1 Bluff Restaurant
258.7 Northwest Trading Post

Access Points

MP 217.3 – NC 18
MP 229.7 – US 21, 7 miles to Sparta, NC
MP 248.1 – NC 18, 2 miles to Laurel Springs and 24 miles to North Wilkesboro, NC
MP 261.2 – NC 16, 12 miles to Jefferson
MP 276.5 – Deep Gap Access Point, US 421, 11 miles to Boone
US 291.8 – US 221/321, 2 miles to Blowing Rock
MP 305.1 – US 221, 3 miles to Linville
MP 312.2 – NC 181, 32 miles to Morganton
MP 317.5 – US 221, 24 miles to Marion
MP 330.9 – NC 226, 6 miles to Spruce Pine
MP 333.9 – NC 226A to Little Switzerland
Kid-Friendly Activities/Side Trips near Highlands Region
Blowing Rock, NC: Visit Blowing Rock, a fascinating geological formation that is the town's namesake, where you can enjoy stunning views of the Blue Ridge Mountains. Discover the wonders of science and art at the Blowing Rock Art and History Museum. Embark on an adventure at Tweetsie Railroad, a Wild West theme park that features a steam-powered train. During winter, the Appalachian Ski Mountain provides a safe and enjoyable environment for kids to learn skiing.
Boone, NC: This college town offers a lively atmosphere, outdoor recreation opportunities, and a variety of restaurants and shops. The Hickory Ridge Living History Museum offers interactive experiences that bring history to life, while the Appalachian State University's Turchin Center presents enriching art exhibits. For outdoor fun, kids will love exploring Mystery Hill's gravity-defying phenomenon while High Gravity Adventures offers thrilling zip lines and aerial parks.
Grandfather Mountain State Park: Spanning over 2,600 acres, Grandfather Mountain State Park represents the untouched wilderness of this iconic mountain. Nestled next to the popular 5,946-foot high tourist spot, the state park presents a free passage to the peaks through a 12-mile circuit of highland trails for hiking enthusiasts. Backpacking campers can also avail themselves of campsites and fire rings within the park.
Pisgah Region – Crabtree Falls to Cherokee
Mileposts 339 to 469
The Pisgah Region, which spans from mileposts 340 to 469, is known for its rugged beauty and outdoor recreation opportunities. The region is named after the Pisgah National Forest, which is home to some of the most scenic drives and hikes in the area.
One of the most popular attractions in the Pisgah Region is the Looking Glass Rock, located at milepost 417. This massive granite dome offers stunning views from its summit and is a favorite spot for hiking, rock climbing, and wildlife viewing. Another must-see destination in the Pisgah Region is Mount Mitchell, which is the highest peak east of the Mississippi River. Visitors can drive or hike to the summit, which offers panoramic views of the surrounding mountains.
Pisgah Region Highlights and Overlooks
Milepost 355.4, Mount Mitchell State Park: the highest point east of MS, 2 miles up Hwy 128 The highest peak east of the Mississippi River, Mount Mitchell is a must-visit for families who enjoy hiking. Families can hike to the summit for stunning views of the surrounding mountains and valleys.
Milepost 364.5, Craggy Gardens: This area is known for its unique rock formations and stunning views. Families can hike the Craggy Gardens Trail to see the famous rhododendron gardens in full bloom during the summer months.
Milepost 382.2 Folk Art Center: Visit the art galleries and view the collection of historical Appalachian crafts. Shop the locally made art and crafts made by members of the Southern Highland Craft Guild.
Milepost 384.5 Asheville Visitor Center
Milepost 417, Looking Glass Rock: In the distance you'll see the compressed volcanic rock of Looking Glass Rock above the trees. The rock can shimmer like glass when wet after rain or snow.
Milepost 418.8 Graveyard Fields Overlook: Enjoy views of the Graveyard Fields or hike the 2.3-mile loop,
Milepost 451, Waterrock Knob Visitor Center and Overlook: Second highest point on the Parkway with views of the Plott Balsam and Great Balsam Mountain Ranges.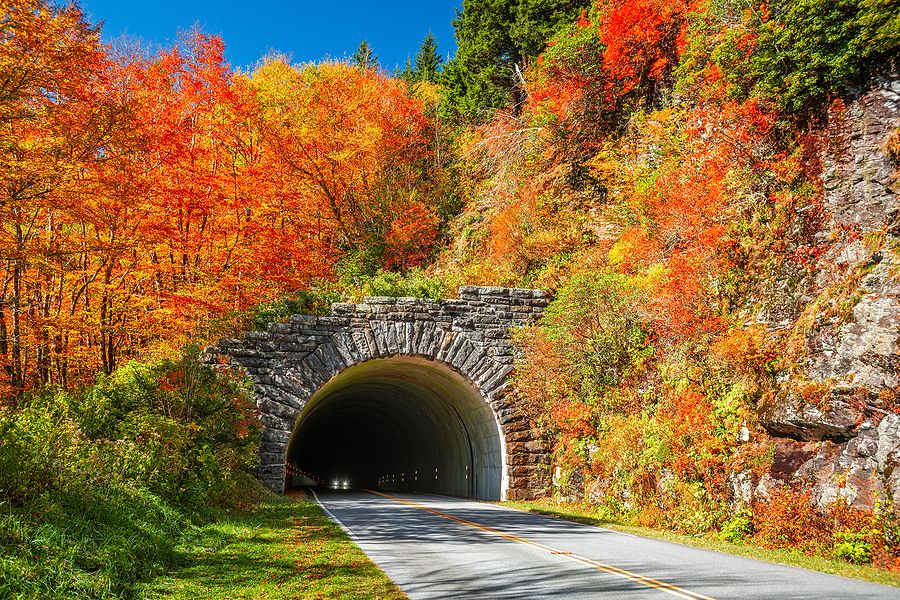 Pisgah Region Easy and Moderate Short Hikes:
Milepost 364.2, Craggy Pinnacle: 1.4 miles round trip hike from the parking lot to a 360-degree view from the summit.
Milepost 407.6, Buck Springs: 2.12 miles round trip hike from the parking area to Mount Pisgah Inn.
Milepost 431, Richland Balsam: Peaceful 1.5-mile loop trail through a spruce-fir forest to the highest spot on the Blue Ridge Parkway at 6,053 feet.
Pisgah Region Gas, Restaurants, Access Points, and Stores
Gas availability off the parkway near mileposts 344.1, 382.5, 384.7, 388.8, 393.6, 411.8, 443.1, 455.7, 469.1
In-Park Stores and Restaurants: 408.8 Pisgah Inn & Restaurant
Access Points

MP 344.1 – Buck Creek Gap, NC 80, 15 miles to Burnsville
Kid-Friendly Activities/Side Trips
Sliding Rock: A 60-foot natural rock water slide into a pool. Take U.S. Highway 276 South at milepost 412 for approximately eight miles. There is a small admission fee. Lifeguards are on duty during the spring and summer months. Changing rooms and restrooms are onsite. Children 7 and under must slide with an adult.
Chimney Rock State Park: Located approximately 25 miles SE of Asheville and the BRP, the park features the family-friendly Great Woodland Adventure trail, which offers interactive exhibits and informative brochures, designed to educate and engage children about the local wildlife and ecology. The park's namesake, Chimney Rock, towers 315 feet above the landscape, offering breathtaking 75-mile views of Hickory Nut Gorge and Lake Lure. The top of the rock can be accessed by 500+ stairs or by an elevator inside the mountain.
Best Time to Visit Blue Ridge Parkway
The Blue Ridge Parkway is a popular destination all year round, but the best time to visit depends on your interests and preferences. Here is a breakdown of each season:
Spring (March-May): Spring is a beautiful time to visit as the mountains come alive with blooming wildflowers, and the trees begin to bud. Temperatures are mild, and crowds are relatively low, except during peak wildflower season.
Summer (June-August): Summer is the busiest season on the Parkway. The weather is warm and pleasant, perfect for outdoor activities like hiking, camping, and picnicking. However, be prepared for occasional afternoon thunderstorms.
Fall (September-November): Fall is the most popular season to visit the Parkway as the leaves change color, creating a stunning display of oranges, yellows, and reds. The weather is cool and crisp, and crowds are high, especially during peak leaf season.
Winter (December-February): Winter can be a quiet and peaceful time to visit the Parkway. The mountains are often covered in snow, creating a winter wonderland. However, many facilities, including campgrounds and visitor centers, are closed, and the weather can be unpredictable, so be prepared for possible road closures.
12 Tips for Visiting Blue Ridge Parkway
Download the Blue Ridge Parkway Travel Planner app, it is a free download with optional downloadable offline maps. Although there is cell service along some of the Parkway, it can be spotty.
Check out the Blue Ridge Parkway Association guide to help you plan your trip.
Be flexible, depending on the time of year the parkway may be crowded or have parts closed due to construction or weather-related events.
Take your time, the speed limit is only 45 but your average speed might only be 35 mph. The Parkway is not something to be rushed. Take your time, enjoy the scenery, and make memories with your children. The journey is as important as the destination.
Pack your lunches and snacks. There are plenty of places to eat a packed lunch and enjoy the views once your crew declares lunchtime.
Check for detours and road closures along the parkway. Before you start your journey, check for any road closures or detours along the Blue Ridge Parkway.
Visiting in an RV? The parkway has 26 tunnels, know your tunnel heights.
Pack layers: The weather can change quickly along the Parkway, so dress in layers that can be added or removed as needed.
Beware of Waterfall Hazards: While the Blue Ridge Parkway is dotted with stunning waterfalls, these natural beauties can be deceptively dangerous, particularly for children. It's important to keep a close eye on your kids and remind them of the risks. Despite the allure of the cascading water, swimming or wading can lead to accidents, including slips, falls, or even drowning. Stick to the designated viewing areas and paths, and never climb on or around waterfalls. Safety should be your top priority while enjoying these natural wonders.
The Parkway has 10 visitor centers located at mileposts 5.8, 63.6, 85.9, 241.1, 294, 304.4, 316.3, 364.5, 384.5, and 451.2.
Overlook signs on the road are close to the actual pull-offs. To know which side of the road the pull-off is on, note the position of the tree on the sign. A tree left of the overlook name means it'll be on the left and right of name on the right.
October fall peak foliage season is a fantastic time to visit, be aware that many other people think so too!