Want to find the best trails in Rocky Mountain National Park for your family's abilities? The park has over 350 miles of trails with various lengths and difficulties. Here we highlight easy and moderate family hikes for those of you with younger ones in tow. When choosing which hikes to complete, take into account the elevation gain of each. Bolded hikes are stroller-friendly.
Bear Lake Corridor Hikes
Access to these hikes during the summer months requires a timed-entry Park Access + reservation for the hours between 5 AM and 6 PM.
Bear Lake – Enjoy an easy 0.5 trail around the lake. Buy a booklet at the trailhead to learn about the geological and historical information outlined in the 30 marked spots along the route.
Nymph, Dream, and Emerald Lakes – Series of three lakes from Bear Lake trailhead. The round trip distance to cover all three is 3.6 miles. The biggest elevation change is near Emerald with a 615-foot increase. The hike to the lakes is uphill and the path can be very rocky in some areas.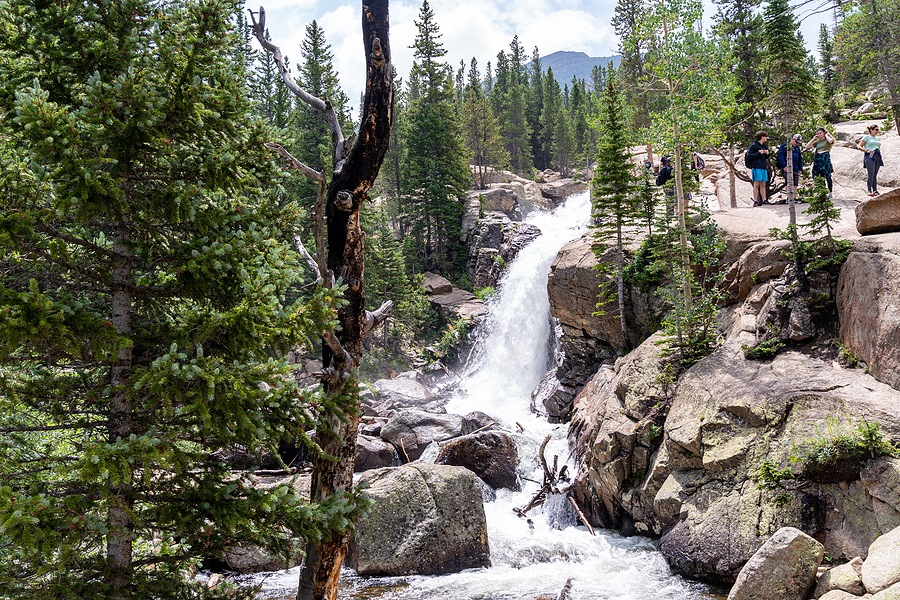 Alberta Falls – A popular hike of 1.7 miles round trip and 200-foot elevation gain to view the 30-foot waterfall.
Sprague Lake – An easy, flat, less than a mile walk around the lake with great views of the Continental Divide.
Bierstadt Lake Loop – This popular 3.2-mile roundtrip hike leads to an alpine lake with a 725-foot elevation gain.
Cub Lake – On the long side of these hikes at 4.8 miles, this hike in the Moraine Park area leads to a lake covered in lily pads in the summer.
The Pool – 3.4-mile hike along a stream leading to The Pool consisting of cascades of the confluence of Fern Creek and Big Thompson River. 205-foot elevation gain.
Trail Ridge Road
Tundra Communities Trail – Located at Rock Cut near the top of Trail Ridge Road, this short hike of 1.1 miles only has an elevation gain of 175 feet but you'll feel the effects of the high 12,110 feet elevation of the trail. Just take your time, pausing to read the placards along the trail and catch your breath. The 360-degree views of RMNP at the top are worth it!
Kawuneeche Valley Trails
Holzwarth Historic Site – Half-mile walk to Holzwarth Trout Lodge and Historic Site, a rustic guest ranch created in the 1920s.
Coyote Valley – One-mile roundtrip trail follows the Colorado River. Picnic tables are available.
Adams Falls – From the East Inlet Trailhead, hike an easy one-third mile to the falls. Enjoy the best views of the falls from the observation area.
Cascade Falls – From the North Inlet Trailhead, trek 3.4 miles through an open meadow. Keep an out for marmots. (300 ft gain)
Longs Peak Trails
Lily Lake – Located 6 miles south of Estes Park on Highway 7, a 0.8-mile roundtrip hike with an elevation gain of only 10 feet.
Eugenia Mine – Hike to prospecting remnants from the 1800s. The hike is 2.8 miles round trip with 540 feet of elevation gain.
Wild Basin Area Trails
Calypso Cascades – Start at the Wild Basin Trailhead for this 3.6-mile roundtrip hike to enjoy the falls, 3.6 miles RT, and 610 feet elevation gain.
Copeland Falls – 0.6 miles roundtrip from the Wild Basin trailhead, includes both Lower and Upper Falls.
Tips for Hiking in Rocky Mountain National Park
Never feed or approach wildlife, and keep a safe distance. You don't want to distress the animal.
Pay attention to the park's altitude. High elevation can cause altitude sickness. Drink plenty of fluids, eat salty snacks, and rest often. Hikes starting at higher elevations may be best scheduled for your second day of visit after you have had a day to acclimate a little.
The weather can change quickly, head back to the trailhead if you see building storm clouds. Don't hike during thunderstorms.
Pack layers and windproof clothing. Good hiking footwear makes a huge difference.
Sunblock, sunblock, sunblock! Ultraviolet radiation can be harmful even on cloudy days.
Carry a map, don't rely on your cell phone. Many areas in the park have no service.
Wild animals and the ability to easily get lost require you to keep your crew together on the trail. Don't let your trailblazers get too far ahead.
More Rocky Mountain National Park Information:
Rocky Mountain National Park Guide with Kids Plus Itineraries, Maps, and 25 Tips for Visiting
Pin for later!