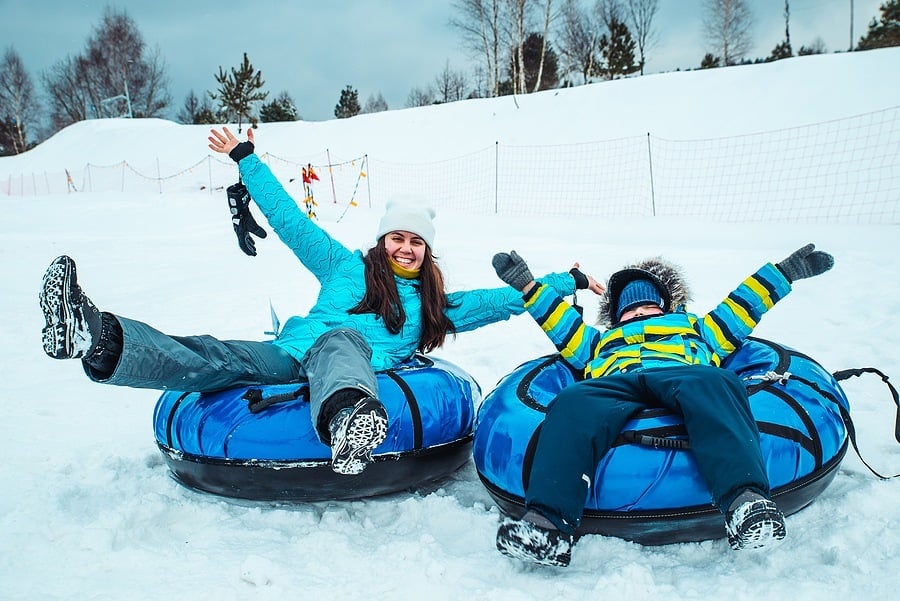 Thanks to 80 different mountain ranges across the state, Utah features a wide variety of snow-related activities. While skiing lays claim as "King of the Hill" each year, the family-friendly sport of tubing has carved out its own niche at several of the state's more popular resorts. Here's a short list of Utah's best destinations for tubing with your big family. We've included nearby big family accommodations so you can make it a weekend trip.
Thinking about skiing instead? Check out our Kid-Friendly Guide to 15 Utah Ski Resorts – Which is Best for Your Big Family and Where Kids Ski Free
Brian Head Resort
Brian Head is located at 329 South Highway 143 in Brian Head, Utah, about a three-and-a-half hours drive from Salt Lake City. The resort features two large tubing runs – the Navajo Tube Hill with a 75′ vertical drop and a 550′ slope length – and the Giant Steps Tube Hill with a 100′ vertical drop with a 600′ slope length. Tubing is sold in hour-and-a-half sessions. A chair lift serves both hills. Reservations are strongly recommended.
Cherry Peak Resort
Located 100 miles north of Salt Lake City in Richmond, Utah, the Cherry Peak Resort offers family-friendly skiing, snowboarding, and tubing experience. Their tubing hill features a gentle slope as well as a "magic carpet ride" for an easy return to the top. Tubing can be reserved in three-hour blocks.
Sugar House Park
A clear favorite of Salt Lake City residents, Sugar House Park has two areas perfect for tubing. Located in the southeast section of the city, both hills get crowded whenever there's snow on the ground. Entrance to the park and tubing is free. Tubers and sledders are on their own as the park has no rental or lift facilities.
Utah Olympic Park/Soldier Hollow Nordic Center
Located in Park City, the Utah Olympic Park boasts six Nordic ski jumps, one of North America's four sliding tracks, a 2002 Winter Games museum, and lots of other family-friendly activities. Built for the Salt Lake 2002 Olympic Winter Games, Utah Olympic Park is a multi-use facility and an official USOC Training Site. Considered part of Olympic Park, the Toyota Tubing Hill at Soldier Hollow features 1,200 feet of tubing lanes, a "magic carpet" ride, and a transition area for wheelchair-bound tubers. A built-in sound system adds a bit of fun to the mix, as well. The park prohibits children under three years of age, as well as lap-riding for children of any age. Tubing sessions are offered in two-hour increments. Pre-purchasing tickets is strongly recommended.
Wasatch Parc
A series of curves and banks allow the lanes at the Wasatch Parc tubing hill to deliver the fastest and most exhilarating ride possible, while still offering a family-friendly and safe experience for tubers of all ages. Wasatch Parc is located in the town of Eden which is part of Utah's Nordic Valley, just an hour's drive north from Salt Lake City. Reasonably priced single-ride, two-hour, and four-hour passes make Wasatch Parc a favorite with tubers.
Woodward Park City
Formerly known as Gorgoza Park, Woodward Park City boasts seven groomed tubing lanes as well as several smaller hills for kids aged three and four. Two "magic carpets" service Utah's longest tubing hill. Woodward Park City offers two-hour sessions daily between the hours of 10 a.m. and 6 p.m. The hill's location on Park City mountain makes reservations a must.